Strawberry Funky Contemporary Strawberry Art Gourd Wall Art Bottle Cap Strawberry - shipping included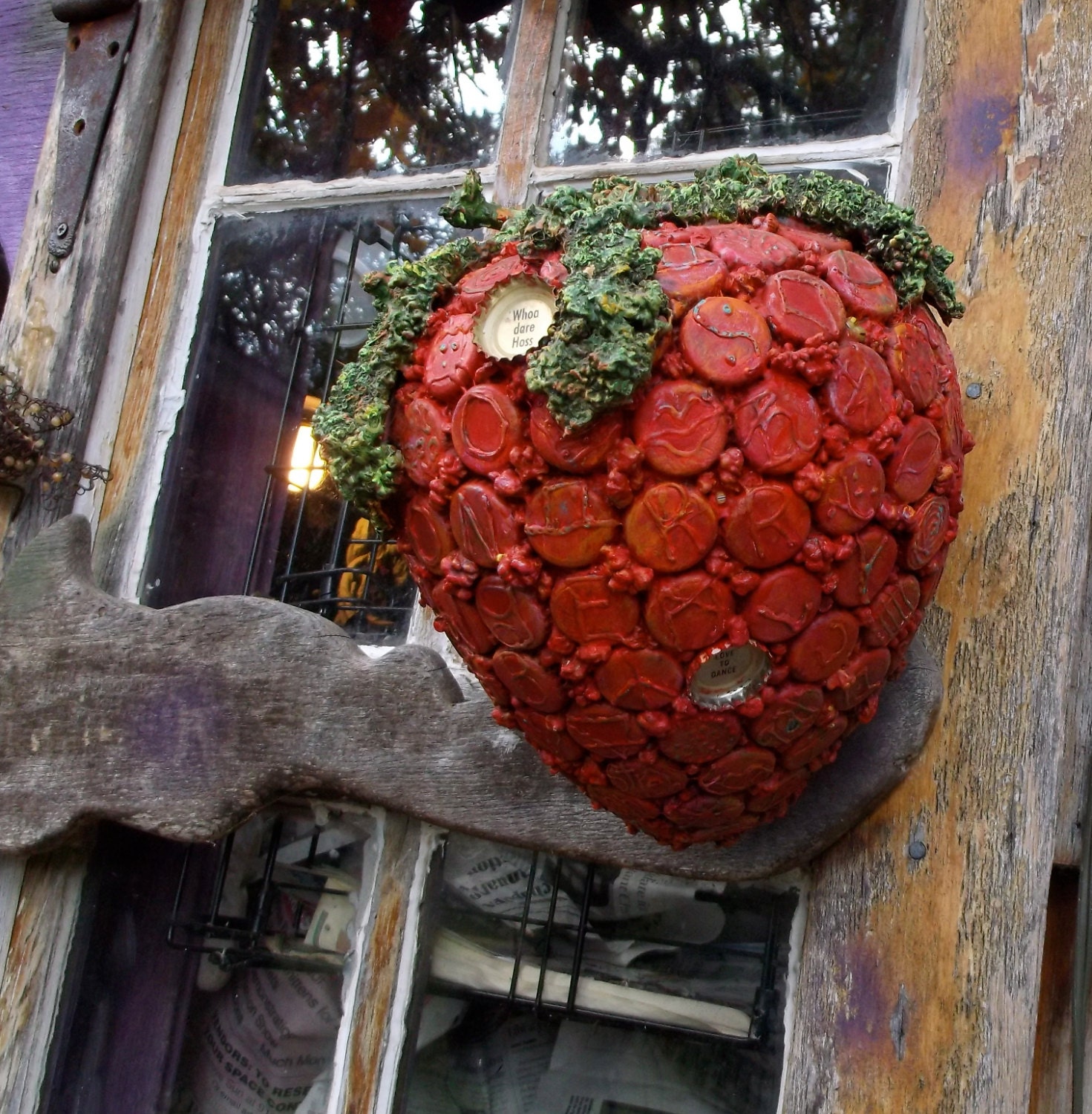 I've been growing gourds for 20 years and have had only a handful come out in a berry shape. This gourd is covered in upcycled bottle caps, gourd shards and a few antique beads. Each cap has a letter or symbol on it formed from a proprietary compound extruded like cake frosting. The symbols are universal including the peace sign, heart, hobo symbols, and positive uplifting symbols from many cultures of the planet. The green cap of the berry is formed from wartie gourd shards. Five caps are interior side up with messages visible to the viewer. These sayings are from the brewing company: Love to Dance; Lasso That Donkey; Too Wet To Plow; Love Them Dreadlocks; and Lou's Telekinetic Delivery. The oddness of these sayings appealed to me. That's why they are visible.

The gourd is roughly 11 inches long; 27 inches around the biggest part (top); and approximately 7.5 inches across the widest part.

I like to keep things simple. There's a discreet hole drilled in the back of the gourd. Simply drive a nail or screw into the wall and line up the hole with the head of the nail and slip the gourd on. The gourd will cant slightly from the wall giving a real dimensional view of the piece. Ambient light can play nicely on the gourd and create lovely shadows on the wall.

The gourd will arrive in a recycled shipping box, nested in recycled packing material. A gourd sheet providing a brief overview of humankind's long relationship with gourds, and a hand-painted gift bag, and tissue (both made from post-consumer paper) included so you're good to go for gifting.

USPS parcel post with tracking included in the price for domestic shipping.
Ships
from United States
ship to
cost
with another item
Everywhere Else

$0.00

USD

$0.00

USD
Reviews From Etsy
Reviewed by
cbpb
Fabulous, fabulous, TEN star experience... way more fun than even the pictures can show. Ultimately chic and eternally pleasant! :o]
Reviewed by
Cathy
My Hickory spoon is beautiful! It will be displayed for awhile before I can use it. I love to just look at the quality work and beautiful wood.
Reviewed by
julsjam
Red, Green, Silver Mosaic 8" Mirror Star Suncatcher Christmas three hundred sixty five days a year! It's so sweet and sparkles, sparkles, sparkles! The box was packed and shipped in no time! Luv it! Great service!
Reviewed by 
zabrnaz
Thank you so much for my beautiful memorial urn! It's beauty and sentiment touches my heart every time I look at it. Your patience and dedication to every detail is greatly appreciated, as is your talent and passion for the beautiful artwork you create, which shines at every angle. Thank you and looking forward to ordering again in the future!!!
Reviewed by 
anuckols
The gourd turned out great and I have my Buddy's ashes in a nice place that is not depressing (like the urns you can get when your dog is cremated). Jan is very responsive and the images of my dog on the gourd bring back great memories. The whole process of sending images for the gourd made a very depressing loss much more bearable. Highly recommended.
Reviewed by 
julsjam
I love it! I have wanted this piece for quite some time. . packed and shipped to perfection! Many Thanks!
Reviewed by 
Christine Wilson
Wonderful seller and unique artwork. I love these pins! Thanks so much!
Reviewed by 
sneikirk3
wow! it's amazing. My husband and I lit it right after I opened it. Our daughter will LOVE it! Thanks so much. And the natural coloring is perfect.
Reviewed by 
Christine Wilson
These are just wonderful, thank you so much. Talented artist and excellent customer service.
Reviewed by 
julsjam
What a wonderful piece of art! It's stunning and usable...it's a box! This piece is one of the finest gourds I have ever seen. Beautiful art and very thick walled! It should last for hundreds of years. I read about the artist; Jan Meng in a book titled; "Beyond the basics gourd art" by David Macfarlane. I have also seen her on T.V. and in galleries. I have collected gourd art for many years now. I must say she is at the top of her field and highly respected for her art! The piece was shipped at lighting speed and arrived in perfect condition! It was a pleasure dealing personally with Jan Meng! She kept me informed on every step of the shipment and it was packed to perfection. I must say I got a great deal on the piece! I have seen her work go for much more in the galleries. I will check etsy for more pieces. My fellow gourd art collecting friends are green with envy that I purchased a Jan Meng piece! I'm thrilled!
Reviewed by 
eggshellmosaicgirl
Thank you so much for your assistance in surprise delivery of my order. The mystery remains...for now. It's perfect. Your wonderful pins are out anonymously spreading good will in the universe! Thanks so much.