Pet Portrait Wall Pocket Urn Wall Box - shipping included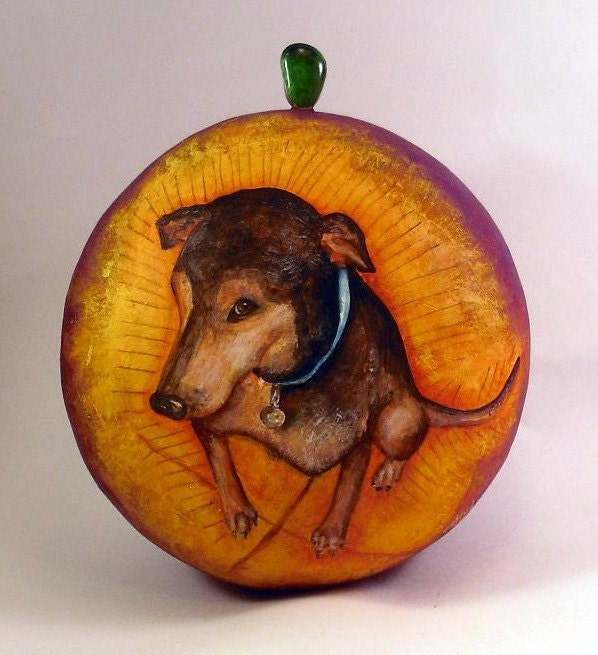 In a world of flat straight-edge wall art, your pet's portrait will stand out forever in more ways than one. I begin with a botanically prime gourd, clean it inside and out. Convo me and attach your pet's image. I'll do the rest. Fur and feather and scale may be textured. I use fine acrylic paint. A sweet quality rhinestone will sparkle from someplace in the image.

Because the portrait is also box, you can store keepsakes–leashes, collars, small toys, photos, cremains–inside.

I may use old newspaper type blocks for the handle and spell out your pet's name....about five letters is the maximum for that, and the name will read in reverse. If you have something meaningful you want used as a handle, convo me and I'll let you know if it can be done. Or I'll use something from my treasure stash that complements the piece. I'll inscribe a short message on the back, too. Each wall box is unique. Let me know colors you like and colors to avoid.

Once I see your pet's picture, my mind's eye "sees" the finished box almost instantly. Give me some guidance and I'll do the rest.

Gourds are generally 8 inches across and 3 to 4 inches front to back. A hole drilled in the back of the gourd facilitates easy hanging. Simply drive a nail or screw into the wall, line up the hole with the nail and slide the gourd on. That's it.

Price includes USPS parcel post with tracking. Please allow 3 weeks for delivery, although I usually ship sooner than that. I also send a hand-painted, post-consumer paper gift bag and tissue.
Ships
from United States
ship to
cost
with another item
United States

$0.00

USD

$0.00

USD
Reviews From Etsy
Reviewed by
cbpb
Fabulous, fabulous, TEN star experience... way more fun than even the pictures can show. Ultimately chic and eternally pleasant! :o]
Reviewed by
Cathy
My Hickory spoon is beautiful! It will be displayed for awhile before I can use it. I love to just look at the quality work and beautiful wood.
Reviewed by
julsjam
Red, Green, Silver Mosaic 8" Mirror Star Suncatcher Christmas three hundred sixty five days a year! It's so sweet and sparkles, sparkles, sparkles! The box was packed and shipped in no time! Luv it! Great service!
Reviewed by 
zabrnaz
Thank you so much for my beautiful memorial urn! It's beauty and sentiment touches my heart every time I look at it. Your patience and dedication to every detail is greatly appreciated, as is your talent and passion for the beautiful artwork you create, which shines at every angle. Thank you and looking forward to ordering again in the future!!!
Reviewed by 
anuckols
The gourd turned out great and I have my Buddy's ashes in a nice place that is not depressing (like the urns you can get when your dog is cremated). Jan is very responsive and the images of my dog on the gourd bring back great memories. The whole process of sending images for the gourd made a very depressing loss much more bearable. Highly recommended.
Reviewed by 
julsjam
I love it! I have wanted this piece for quite some time. . packed and shipped to perfection! Many Thanks!
Reviewed by 
Christine Wilson
Wonderful seller and unique artwork. I love these pins! Thanks so much!
Reviewed by 
sneikirk3
wow! it's amazing. My husband and I lit it right after I opened it. Our daughter will LOVE it! Thanks so much. And the natural coloring is perfect.
Reviewed by 
Christine Wilson
These are just wonderful, thank you so much. Talented artist and excellent customer service.
Reviewed by 
julsjam
What a wonderful piece of art! It's stunning and usable...it's a box! This piece is one of the finest gourds I have ever seen. Beautiful art and very thick walled! It should last for hundreds of years. I read about the artist; Jan Meng in a book titled; "Beyond the basics gourd art" by David Macfarlane. I have also seen her on T.V. and in galleries. I have collected gourd art for many years now. I must say she is at the top of her field and highly respected for her art! The piece was shipped at lighting speed and arrived in perfect condition! It was a pleasure dealing personally with Jan Meng! She kept me informed on every step of the shipment and it was packed to perfection. I must say I got a great deal on the piece! I have seen her work go for much more in the galleries. I will check etsy for more pieces. My fellow gourd art collecting friends are green with envy that I purchased a Jan Meng piece! I'm thrilled!
Reviewed by 
eggshellmosaicgirl
Thank you so much for your assistance in surprise delivery of my order. The mystery remains...for now. It's perfect. Your wonderful pins are out anonymously spreading good will in the universe! Thanks so much.